3rd AUGUST, VENTNOR ARTS CLUB, ISLE OF WIGHT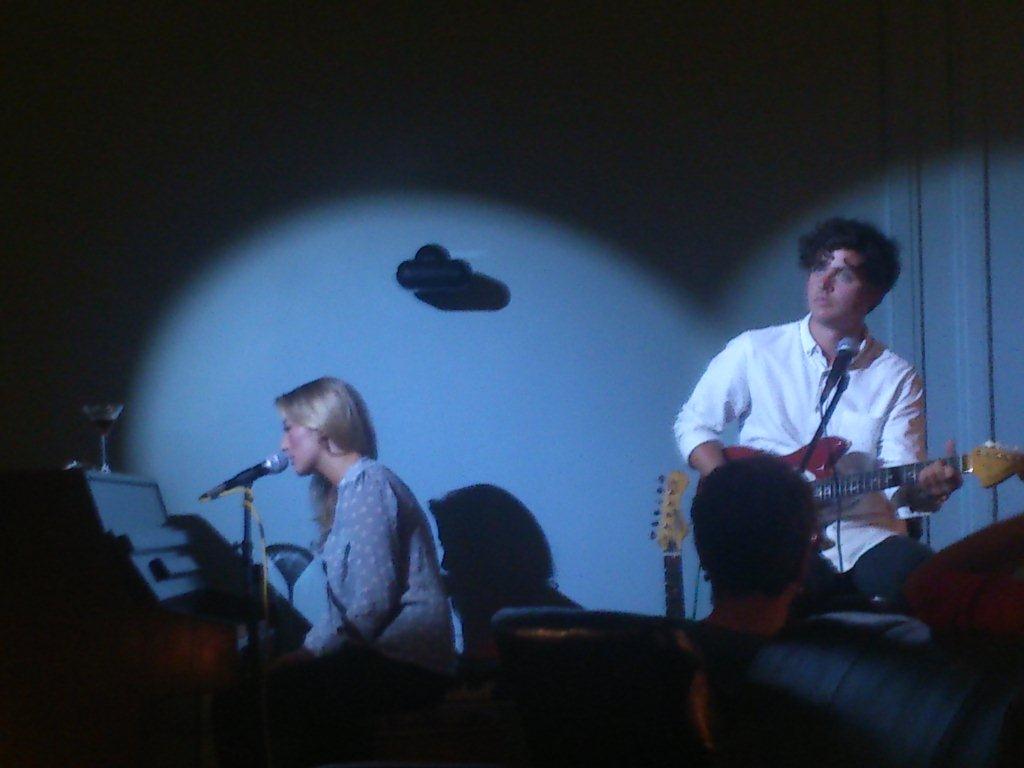 Ventnor Arts Club members gathered within the comfortable former Nat West Bank premises in Ventnor for a celebratory cocktail evening and live music from Tallulah Smith, who has become a firm favourite with members and guests of the club.
Tallulah's distinct clear voice, with just a trace of warble, was beautifully complimented with guitar and supporting vocals by David Champion from band of the moment CHAMPS. Songs like 'Georgia' that could be straight from a Country and Western club in Nashville, albeit a dead hip one, 'Heaven Knows' with its plaintiff chorus and the poignant 'Heart Shaped Box' were all delivered perfectly by the diminutive songstress whose voice filled the room with its high glass ceiling: her pretty duck egg blue and white polka dotted blouse echoing the slate blue walls of the club.
Coordinated in every way, the sadness of many of her songs plucks at the heartstrings of everyone who hears them – memories of that angst of first love, the awkwardness of feeling at home in your own skin and the trials and tribulations of finding your own style ('Best Clothes'). Yet they have a playful side too. 'Hair do' is a very funny, tongue in cheek song about loving someone for his hairstyle, yet delivered so dead pan that it is reminiscent of The Velvet Underground. They call it 'Pastoral Folk' apparently, but it has a most haunting quality that lingers long after the set has finished.
The collaborations of David Champion and his Brother Michael have led to a variety of bands, with different line ups including the BBC Radio play listed CHAMPS, The Shutes and on this occasion a sort of 'cocktail hour' version of Tula and the Blackgang. On this occasion Michael was taking the night off, but listening intently from a stool at the back of the club.
With her acting background, sweet vocals and such musicianship around her, we predict Tallulah could go a long way. Her set was very entertaining, extremely charming and just perfect for the intimate atmosphere of cocktail mixologist Dan's last night at the Ventnor Arts Club before his move to the West Country. Good luck to Dan in Bath and to Tallulah & CHAMPS; keep mixing it up – we love it.
Set list: Georgia; heaven knows; skin; heart shaped box; best clothes; honeybee; weeping; sit still; beautiful; best friend; hair do.