TICKETS ON SALE NOW Tickets bought online through Eventbrite can have their booking fees applied. Alternatively mail us with your phone number on info@ventnorartsclub.com and we will call you to collect payment by phone. If you would like to be added to our mailing list please email us at info@ventnorartsclub.com Tickets may be bought online through Eventbrite. Their booking fees may apply. Alternatively mail us with your phone number on info@ventnorartsclub.com

Andre Reiu's 2019 Concert from Sydney Town Hall
Sunday 6th January, 3.00pm Click for tickets here
One of Event Cinema's biggest names, André Rieu, returns with a major new production this New Year's 2019!
The King of Waltz André Rieu will bring to millions of fans across the world, his New Year's concert recorded live in Sydney, Australia. The first full production from leading Event Cinema distributor Piece of Magic Entertainment, André Rieu will present a festive concert like never before, recorded live in Sydney's iconic Town Hall.
Join the Maestro, André Rieu, for a magical evening of music and dance featuring his world class sopranos, The Platin Tenors and plenty of surprises. With show tunes, classical music and plenty of festive fun it promises to be a great way to startthe new year!
Take a front row seat and experience this spectacular musical event on the big screen. Enjoy backstage access, interviews with André and his special guests, musical favourites and much, much more, exclusive to cinema.
The evening will be hosted by ITV's Charlotte Hawkins, a familiar face for all those who continue to enjoy André's annual Maastricht concert each July.

The Metropolitan Opera Live – Adriana Lecouvreur
Saturday 12th January, 5.30pm Click for tickets here
Soprano Anna Netrebko joins the ranks of Renata Tebaldi, Montserrat Caballé, and Renata Scotto, taking on—for the first time at the Met—the title role of the real-life French actress who dazzled 18th-century audiences with her on-and offstage passion. The soprano is joined by tenor Piotr Beczała as Adriana's lover, Maurizio. The principal cast also features mezzo-soprano Anita Rachvelishvili and baritone Ambrogio Maestri. Gianandrea Noseda conducts. Sir David McVicar's staging, which sets the action in a working replica of a Baroque theater, premiered at the Royal Opera House in London, where the Guardian praised the "elegant production, sumptuously designed … The spectacle guarantees a good night out."
Estimated run time 213 minutes

NT Live – The Tragedy of King Richard the Second
Tuesday 15th January, 7.00pm Click for tickets here
Simon Russell Beale plays William Shakespeare's Richard II, broadcast live from the stage of the Almeida Theatre in London to cinemas.
This visceral new production about the limits of power will be directed by Joe Hill-Gibbins, whose previous plays include Little Revolution at the Almeida and Absolute Hell at the National Theatre.
Richard II, King of England, is irresponsible, foolish and vain. His weak leadership sends his kingdom into disarray and his court into uproar. Seeing no other option but to seize power, the ambitious Bolingbroke challenges the throne and the king's divine right to rule.
Simon Russell Beale returns to National Theatre Live screens following broadcasts of Timon of Athens and King Lear, and his recent role in the National Theatre's critically acclaimed production of The Lehman Trilogy.

ROH Live – The Queen of Spades
Tuesday 22nd January, 7.00pm Click for tickets here
The penniless soldier Gherman has fallen in love with Liza, even though she is engaged to his friend Yeletsky. Gherman learns that Liza's grandmother the Countess knows a winning three-card formula. Gherman determines to wrest the secret from the Countess, gain a fortune through gambling and marry Liza.
Gherman and Liza admit they love each other, and Gherman persuades Liza to let him into the Countess's room. But when he tries to wrest the Countess's secret from her, she dies of fright. The following evening, the Countess's ghost appears to Gherman. She commands him to marry Liza and tells him the 'secret of the three cards'. But will this help Gherman satisfy his desires or drive him further towards madness?
chaikovsky began work on The Queen of Spades in 1889. He based it on a short story by Alexander Pushkin, one of his favourite writers. He and his brother Modest (his co-librettist) dramatically altered Pushkin's plot, turning Gherman from a cynical opportunist into an ardent lover and Liza into a tragic figure. Tchaikovsky put a great deal of work into the opera's premiere at St Petersburg's Mariinsky Theatre in 1890, and was thrilled by its success.
The Queen of Spades is one of Tchaikovsky's most impressive and varied scores, containing grand choruses, intimate arias and duets (such as Liza and Gherman's passionate Act I love duet), a masquerade paying tribute to Mozart and a terrifying supernatural episode. Stefan Herheim's spectacular production places Tchaikovsky himself at the heart of the action, and asks searching questions about the nature of creativity and the parallels between life and art.
Duration: 210 min

ROH Live – La Traviata
Wednesday 30th January, 7.00pm Click for tickets here
Richard Eyre's beautiful production provides the perfect setting for Verdi's opera about a courtesan who sacrifices all for love.
From the thrill of unexpected romance to a heartbreaking reconciliation that comes too late – Verdi's La traviata is one of the most popular of all operas. Alfredo falls in love in with the courtesan Violetta in glamorous Paris society, but underneath the surface run darker undercurrents, leading to a tragic ending. The opera's wealth of melodies includes the famous Brindisi and the exuberant 'Sempre libera' – both showing the lyricism of Italian opera at its most immediately appealing. Richard Eyre's production for The Royal Opera brings out all the emotional colour, from the giddy discovery of love, through painful confrontation to the inevitable conclusion. Lavish period sets and costumes enhance the reality of a moving story based on true life.
Approx 215 mins

NT Live – I'm Not Running
Thursday 31st January, 7.00pm Click for tickets here
I'm Not Running is an explosive new play by David Hare, premiering at the National Theatre and broadcast live to the club. Pauline Gibson has spent her life as a doctor, the inspiring leader of a local health campaign. When she crosses paths with her old boyfriend, a stalwart loyalist in Labour Party politics, she's faced with an agonising decision.
What's involved in sacrificing your private life and your piece of mind for something more than a single issue? Does she dare? Hare was recently described by The Washington Post as 'the premiere political dramatist writing in English'. His other work includes Pravda and Skylight, broadcast by National Theatre Live in 2014.
Approx 200 minutes

The Metropolitan Opera Live – Carmen
Saturday 2nd February, 5.30pm Click for tickets here
Love is a wild bird… Don't miss this revival of Sir Richard Eyre's dynamic production. Mezzo-soprano Clémentine Margaine plays opera's ultimate seductress, while Roberto Alagna returns to the role of Don José, the good-hearted soldier with whom she unleashes an uncontrollable passion. Don José breaks the law, goes to prison, deserts the army and loses everything to be with Carmen. But the capricious Carmen gypsy soon tires of him and takes up instead with the bullfighter Escamillo—bass (Alexander Vinogradov). She has ruined his life, but still, Don José adores her, with a fierceness that can only lead to catastrophe. Composer Bizet died just three months after Carmen's disastrous premiere, never knowing that his creation would become one of the most popular operas of all time.
Estimated runtime 221 min

Elizabeth and Jameson in Concert
Saturday 16th February, 8.00pm Click for tickets here
Elizabeth and Jameson are the exciting new duo of Hannah Elizabeth of Said The Maiden and Griff Jameson of Fred's House. This gig will be their first together on the Island and we are delighted to present them at the club.
A stunning collaboration between two rising stars of the UK folk/pop/rock scene, Elizabeth & Jameson comprises Hannah Elizabeth of Said The Maiden and Griff Jameson from Fred's House. Playing all over the UK with the trio Said The Maiden, Hannah Elizabeth's influences are very much planted within traditional folk roots. This is in stark contrast to Griff Jameson's recent musical history, having penned a string of quirky rock/pop anthems for Fred's House.
Together, Elizabeth & Jameson arguably offers the best of both backgrounds; this is simplistic, classic song writing at its best: a stripped back, harmony-driven sound with guitar, violin and exquisite vocals.
Having already opened up for the likes of Scott Matthews, Bob Fox, Greg Russell, Jack Rutter and Richard Digance, the duo are also receiving critical acclaim for their debut EP 'Supermoon', along with an NMG Award nomination for Best Folk,Roots, Country & Acoustic Act… and an ever-growing fan base!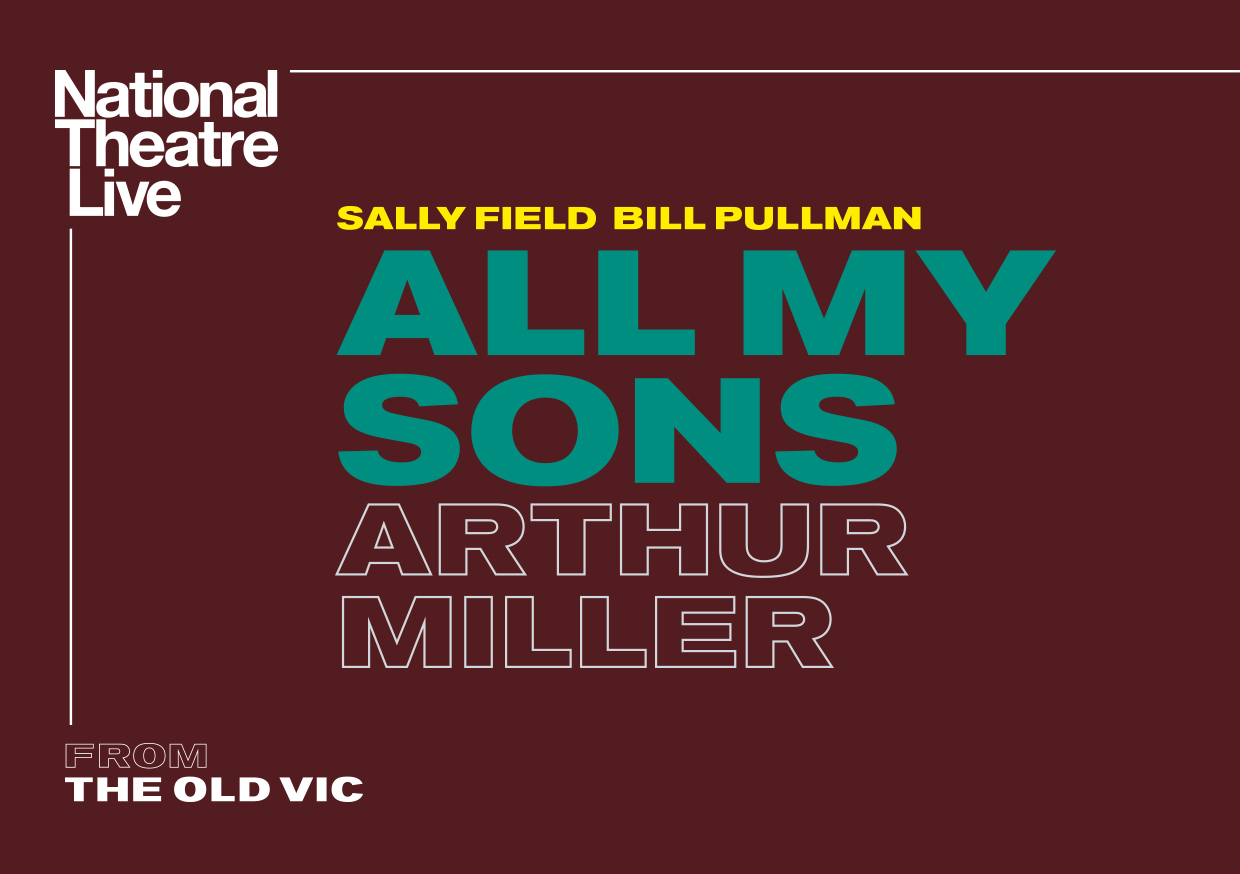 NT Live – All My Sons by Arthur Miller
Tuesday 14th May, 7.00pm, Click for tickets here
Broadcast live from The Old Vic in London, Academy Award-winner Sally Field (Steel Magnolias, Brothers & Sisters) and Bill Pullman (The Sinner, Independence Day) star in Arthur Miller's blistering drama All My Sons.
America, 1947. Despite hard choices and even harder knocks, Joe and Kate Keller are a success story. They have built a home, raised two sons and established a thriving business.
But nothing lasts forever and their contented lives, already shadowed by the loss of their eldest boy to war, are about to shatter. With the return of a figure from the past, long buried truths are forced to the surface and the price of their American dream is laid bare.
Jeremy Herrin (NT Live: This House, People, Places & Things) directs a cast including Jenna Coleman (Victoria), and Colin Morgan (Merlin).
All My Sons is an Old Vic co-production with Headlong