TICKETS ON SALE NOW Tickets bought online through Eventbrite can have their booking fees applied. Alternatively mail us with your phone number on info@ventnorartsclub.com and we will call you to collect payment by phone. If you would like to be added to our mailing list please email us at info@ventnorartsclub.com Tickets may be bought online through Eventbrite. Their booking fees may apply. Alternatively mail us with your phone number on info@ventnorartsclub.com
Talking of Ventnor….We are delighted to once again join forces with Ventnor History Society to host a fascinating group of speakers to tell us more about our local history and topics of interest. These talks are extremely popular and we strongly advise booking ahead to avoid disappointment.
Monday 25th February, 7.30pm – Robin McKinnis – Pre-Raphaelite Wight
The Isle of Wight Artworks of the pre-Raphaelite Brotherhood and their Fellows.
Monday 4th March, 7.30pm – Dr Alan Clark – Landslides
Landslides of Ventnor and the Isle of Wight in a national and international context.
Monday 11th March, 7.30pm – Lesley Telford
A concluding talk in the series by Lesley our main collaborator from the Ventnor History Society

ROH Live – Don Quixote
Tuesday 19th February, 7.00pm Click for tickets here
Cervantes's story of the bumbling knight Don Quixote has inspired countless artistic interpretations.Marius Petipa choreographed this sparkling ballet about the encounters of the man from La Mancha and his faithful squire Sancho Panza. At its heart are virtuoso roles for the lovers Basilio and Kitri.Carlos Acosta chose this joyful classic for his first production for The Royal Ballet. His vibrant staging brings together the whole Company in such roles as exuberant villagers, passionate gypsies and even fantasy flowers.The story follows Don Quixote's picaresque journey to do deeds in honour of his imaginary noble lady, Dulcinea. Sunny, charming, funny and touching – Don Quixote is a ballet as full of uplifting emotion as it is of astonishing ballet technique.Choreography: Carlos Acosta
After: Marius Petipa
Music: Ludwig Minkus
Arranged and Orchestrated by: Martin YatesApproximate running time 2 hours 45 minutes, including one interval.
Died Blondes
Saturday 23rd February, 8.00pm Click for tickets
here
Written and performed by award-winning writer Joan Ellis, the performance pieces together the latest theories creating 2 dramatic monologues which enable these so-called dumb blondes to find their voice moments before they die.
Marilyn Monroe, JFK's ex-mistress whispers secrets about the Kennedy clan down the phone to ex-husband, Joe DiMaggio, telling him exactly who wants her dead and why. In one neurotic, paranoid last phone call, she begs DiMaggio to save her from threats, real and imagined as she relives her past and is finally overpowered for the final time by one of the most powerful men in the USA, the President's brother, Bobby Kennedy.
Ruth Ellis, the last woman to be hanged in Britain, alone in her cell minutes before her execution reads her letter to lover, David Blakely, justifying why she shot him. She makes no attempt to atone for her crime. Her aim is to have the last word. Driven to the brink by Blakely's constant infidelities and abuse, she was a woman who had been humiliated and beaten for the last time and sought the ultimate revenge.

The Metropolitan Opera Live – La Fille Du Régiment
Saturday 2nd March, 5.30pm Click for tickets here
Full of wit and invention, Donizetti's comic opera is a delight. The famous aria "Ah, Mes Amis," with its nine high Cs, is one of opera's most show-stopping numbers. Bel canto stars Pretty Yende and Javier Camarena take on the challenging vocal fireworks in Laurent Pelly's hilarious staging. Orphaned as a small child and raised by an entire army regiment, the spirited Marie has grown up as the regiment's 'daughter', raising morale and spreading joy. Tonio, a local man, falls in love with her and even joins the army for her sake. But a chance encounter with a noblewoman sparks a sudden revelation, and a tale unfolds of secret identities, long-lost family, and murky pasts.

Kent DuChaine the American Bluesman – in Concert 
Friday 8th March, 8.00pm Click for tickets here
Kent DuChaine has listened to, hung out with, opened up for, traveled and played with most of the great Blues men and women his whole adult life. The list is too long to name them all, but some of the major ones are: Muddy Waters, Howlin' Wolf, John Lee Hooker, Big Mama Thornton, Koko Taylor, BB, Albert and Freddie King, Willie Dixon, Bukka White, Johnny Shines, Robert JR Lockwood, Mississippi Fred McDowell, Furry Lewis and Son House. These were the big Country and Urban Blues influences who Kent heard and/or played with.
Kent's early days with the Blues involved him both living and learning the Blues life. He has played in most of the major Blues festivals in the U.S.A. and Europe and was part of a Grammy nominated album recorded at the prestigious Smithsonian Institute Festival of Folk Life in Washington D.C. The theme of the festival was "The Roots of Rhythm & Blues, The Robert Johnson Era" and was recorded and released by Sony Music. It featured Robert Johnson's old buddies, Johnny Shines, Robert JR Lockwood, Honeyboy Edwards, and Henry Townsend.
Kent attended two of the early "Ann Arbor Blues Festivals" in the 70's. It united together virtually every important Blues man and woman in the world who performed for the three days and nights in August.
His dedication and talent for the blues earned him the honor of opening two shows for Bukka White, spending time with Mississippi Fred McDowell and befriending his hometown Bluesmen, Lazy Bill Lucas and Mojo Buford in Minneapolis, Minnesota. He has even hung out with Muddy Waters who he later paid his last respects to at Muddys' funeral in Chicago. You will have to wait till you see him on stage to hear if he took up Muddy's offer of some reefer and Champagne!

Nick Tann in Concert
Saturday 23rd March, 8.00pm Click for tickets here
Nick Tann is best recognised in the guise of solo, acoustic guitar slinging, jazz tinged, folk-pop performer. And it is that more familiar sound which forms the basis of the new look and sound of Nick Tann and his new band. The "new" Nick Tann is a triptych of Nick Tann on guitars and vocals, Bastien Terraz on double bass and Guy Siviour on drums/percussion.
At the heart of the sound is the familiar balladry, emotionally driven personal narratives and rich vocal tones from solo days but now there is some wonderful musical augmentation. A chilled yet structurally robust British folk take on Americana heartland traditions and whilst the familiar building blocks of Jazz, blues and country all play their part it is a wholly new sonic architecture that is the end result.
Favoured by BBC 6Music's Tom Robinson "He's just so good!" as well as BBC Radio 2's Jo Whiley it's looking like Nick's decision to make music his full time occupation is turning out to be a good one!

Met Opera Live – Die Walküre
Saturday 30th March, 5.55pm (Approx. 5 hrs 20 min) Click for tickets here
Featuring some of the most glorious music ever written,including the Ride of the Valkyries- Die Walker is the second of four operas that comprise Wagner's Ring Cycle, a story of monsters, gods and humans on a superhuman scale.
In what is expected to be a Wagnerian event for the ages, soprano Christine Goerke plays Brünnhilde, Wotan's willful warrior daughter, who loses her immortality in opera's most famous act of filial defiance. Tenor Stuart Skelton and soprano Eva-Maria Westbroek play the incestuous twins Siegmund and Sieglinde. Greer Grimsley sings Wotan. Philippe Jordan conducts.

ROH Live: La Forza Del Destino
Tuesday 2nd April, 6.00pm Click for tickets here
Christof Loy directs a star-studded cast of singers, inclusing Anna Netrebko, Jonas Kaufmann and Ludovic Tezier, in Verdi's epic opera, conducted by Antonio Pappano.
Leonora falls in love with Don Alvaro, but when her father forbids their marriage, a fatal accident triggers a drama of obsession, vengeance and tragedy. Jonas Kaufmannand Anna Netrebko star in Verdi's epic La forza del destino (The Force of Destiny) an opera which demands the very best of singers for its powerful music and the fullest theatrical treatment for its story of bitter revenge pursued across miles and years. The production comes to The Royal Opera in a sensational staging from Amsterdam packed with colour and action. It is directed by Christof Loy and conducted by Antonio Pappano, Music Director of The Royal Opera.

NT Live – All About Eve
Thursday 11th April, 7.00pm Click for tickets here
Gillian Anderson (X-Files, NT Live: A Streetcar Named Desire) and Lily James (Mamma Mia! Here We Go Again) lead in All About Eve, broadcast live to Ventnor Arts Club from the West End in London.
All About Eve tells the story of Margo Channing. Legend. True star of the theatre. The spotlight is hers, always has been. But now there's Eve. Her biggest fan. Young, beautiful Eve. The golden girl, the girl next door. But you know all about Eve…don't you…?
Lifting the curtain on a world of jealousy and ambition, this new production, from one of the world's most innovative theatre directors, Ivo van Hove (Network, NT Live: A View from the Bridge), asks why our fascination with celebrity, youth and identity never seems to get old.
Adapted by Ivo van Hove from the 1950 Twentieth Century Fox film by Joseph L Mankiewicz and the play "The Wisdom of Eve" by Mary Orr. Ivo van Hove directs this new stage version with set and lighting design from Jan Versweyveld, costume design by An D'Huys and music from double Mercury Prize-winner PJ Harvey, alongside Tom Gibbons' sound design. Casting is by Julia Horan CDG.

Clayson Sings Clayson
Friday 3rd May, 8.00pm Click for tickets here
Alan Clayson, sometime leader of the legendary Alan Clayson and the Argonauts performs solo too, delivering recitals that defy succinct description. Feedback from recent Clayson engagements on both sides of the Atlantic and the formation of a US fan club (stemming from a remarkable concert in Chicago) would suggest that he has become more than a mere cult celebrity who is still spoken of and written about in the same paragraphs as Wreckless Eric, John Otway, Tom Robinson and Elvis Costello. Moreover, 2012's One Dover Soul – produced by Wreckless Eric – and This Cannot Go On…, a more recent album with the Argonauts  might stand as Alan Clayson's artistic apotheosis were it not for the promise of surprises yet to come.
His following grows still as well as demand for his talents as a record producer, and the number of versions of his compositions by such diverse acts as Dave Berry (in whose backing group, he played keyboards in the mid-1980s) and New Age outfit, Stairway He has worked too with The Portsmouth Sinfonia, Wreckless Eric, Twinkle, The Yardbirds, The Pretty Things and the late Screaming Lord Sutch among many others.
"Curiously appealing evening of baroque and roll" -Time Out
"Clayson is in a premier position on rock's lunatic fringe" – Melody Maker
"Incredibly strange and strangely incredible" – Ugly Things
"I can honestly say I'VE NEVER SEEN ANYTHING LIKE IT IN MY LIFE!!!" – Wokingham Times
"He left me wondering what it was all about" – New Musical Express
"The greatest Sixties album of the Eighties…captures the wonderful foolishness in which teen narcissism was dressed up" – The Observer
"Alan Clayson's original songs are utterly delightful in their individuality" – Folk Roots

Elsa Jean McTaggart – Blues Singing Girl
Friday 10th May, 8.00pm Click for tickets here
We can't wait for the return of Elsa Jean, this time with Blues, fiddle, her own stuff and familiar songs. Don't miss her, she's fantastic as those of you who came to her debut show at the club and on the Island will know.
With her fabulous velvet voice and rich sultry tones Elsa weaves a colourful tapestry of vivid anecdotes from her unusual past and life on the road and evocative song (think contemporary folk sprinkled with Bluesy Jazz and topped with the unexpected), interspersed with her own compositions from dynamic jigs and reels to wildly haunting celtic airs on the Fiddle, Penny Whistle and Button box.
Not only a passionate and masterful musician, Elsa is chatty, funny and engagingly entertaining! With poetic fluency and an easy rapport with the audience, she draws you into a magical dream, a self-penned musical portal to that land of the soul where only one who's been there can guide you. We're confident that you'll be left with no doubt of her craftsmanship both musically and on the stage.
NT Live – All My Sons by Arthur Miller
Tuesday 14th May, 7.00pm, Click for tickets here
Broadcast live from The Old Vic in London, Academy Award-winner Sally Field (Steel Magnolias, Brothers & Sisters) and Bill Pullman (The Sinner, Independence Day) star in Arthur Miller's blistering drama All My Sons.
America, 1947. Despite hard choices and even harder knocks, Joe and Kate Keller are a success story. They have built a home, raised two sons and established a thriving business.
But nothing lasts forever and their contented lives, already shadowed by the loss of their eldest boy to war, are about to shatter. With the return of a figure from the past, long buried truths are forced to the surface and the price of their American dream is laid bare.
Jeremy Herrin (NT Live: This House, People, Places & Things) directs a cast including Jenna Coleman (Victoria), and Colin Morgan (Merlin).
All My Sons is an Old Vic co-production with Headlong


Boo Hewerdine and Darden Smith in Concert
Saturday 8th June, 8.00pm Click for tickets here
Boo Hewerdine and Darden Smith met thirty years ago. Introduced by a publisher they wrote songs together for four days in London. The results secured them a record deal with Ensign Records. A short while later they found themselves in Austin, Texas recording the album 'Evidence'. The album is a potent mix of Americana and Ukana (for want of a better word). It received rave reviews and featured in the Rolling Stone 500 greatest albums book.
Both Darden and Boo have continuing successful solo careers but 'Evidence' remains a favourite.
Last year they played a couple of shows in Scotland and England and were amazed and delighted to play to sell out audiences who knew every word.
This June, to celebrate this magical collaboration, that has resulted in a life long friendship, Darden and Boo will be playing a handful of shows in the UK.  We are lucky enough to be one of their chosen venues, probably the most intimate, and we're excited.

NT Live – Small Island
Thursday 27th June, 7.00pm Click for tickets here
Filmed in front of a live audience. Andrea Levy's epic novel bursts to life on-stage, telling a story which journeys from Jamaica to Britain through the second World War to 1948, the year the HMT Empire Windrush docked at Tilbury. Told by a cast of 40, the filmed live screening of this epic play will mark the start of our 10th birthday celebrations.

Bernard Hoskin in Concert
Friday 5th July, 8.00pm Click for tickets here
Bernard Hoskin is a singer, songwriter and multi-instrumentalist based near Cambridge, England. He has been performing both solo and in various groups at folk clubs and festivals in England for fifteen years. His work has been influenced by a diverse range of artists including, Paul Simon, Bert Jansch, Marc Cohn, Shawn Colvin, Papa Wemba as well as English and Celtic traditional music. Primarily a guitarist, he also plays bass, keyboards and mandolin.
In 1988-89 he was the lead singer and guitarist in the Cambridge folk group, Maverick, and since then he has continued to work as both a solo performer and in a duo with saxophone and flute player, Mike Clifford, of the blues group, The Backyard Band. 

Debbie Bond – Alabama Blueswoman
Friday 16th August, 8.00pm Click for tickets here
We go far and wide to find you great acts. Singer, guitar player and songwriter Debbie Bond has been paying her dues in the Alabama backwoods for over 30 years. Influenced by the famed sounds of Muscle Shoals, her impressive musical story includes years of performing with older traditional Alabama blues musicians, including Johnny Shines, Sam Lay, Eddie Kirkland and Willie King. Her immersion in Alabama blues has deeply flavored her guitar playing, soulful voice and original song writing – yet her sound is contemporary and original, incorporating soul, blues, and jazz influences. She has toured extensively in Europe including France, Switzerland, Italy, Belgium, Luxembourg, England, Wales, Scotland, and Ireland.
She is the co-founder of the award-winning Alabama Blues Project, an educational non-profit devoted to preserving and promoting Alabama's rich blues heritage. 
A mouthpiece for sultry, Southern charm and whimsical musical conversation, Debbie Bond gets her heart tangled up in an intimate mess of backwoods Alabama soul.
Living Blues Magazine (US)
. . . she is one of those too rare female blues players, she clearly deserves greater recognition by blues lovers every where. this CD showcases her talent admirably and should propel her career nicely allowing her to step out of the shadows of those great musicians now passed she played with most of her career.
Blues Matters (UK)
. . . a superb night with all three musicians at the top of their craft. Debbie's sweet guitar backed up by her beautiful voice was matched by the superb keyboard and harp of Rick, all driven along by the effortless minimal drumming of Mickey Barker. . . .
Blues In Britain (UK)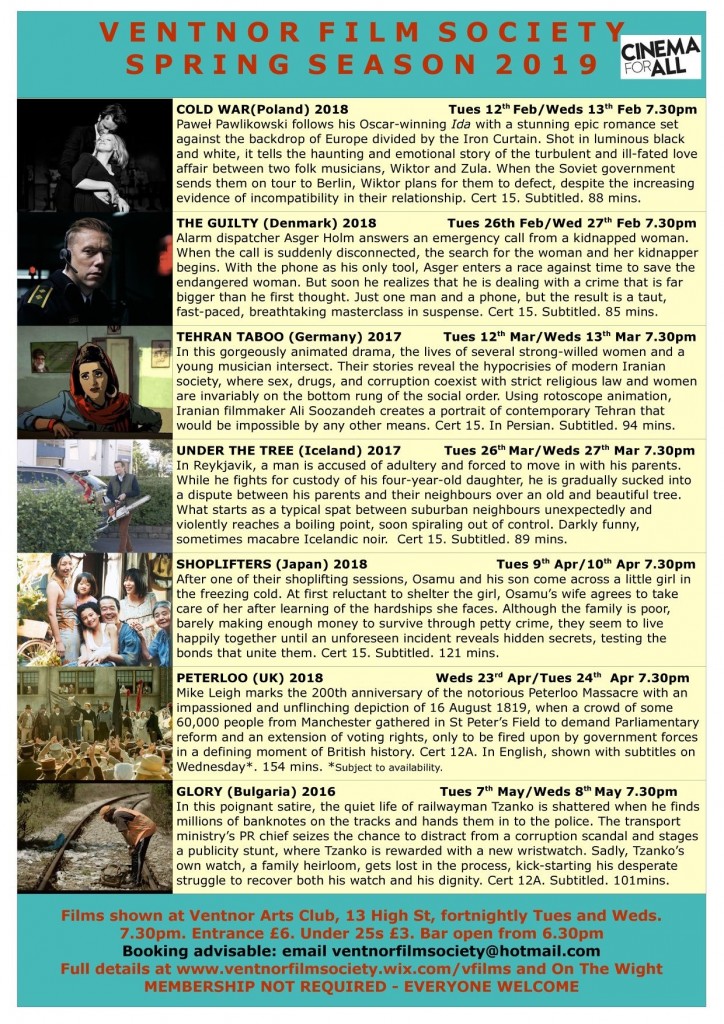 Click the poster to link to Ventnor FIlm Society's web pages